THE GROVE
Cottage Accommodation
George Town, TASMANIA
ph +61 (0)3 6382 1336 , +61 (0)466 955210. . email: us @ thegrovetas.com
corner Elizabeth & Cimitiere Streets (25 Cimitiere St) central George Town TAS 7253
---
Accommodation
Nanna's Cottage
Accommodation Photos
Within the gardens of The Grove (c.1835) and decorated in the style of about the 1920's, Nanna's is a self contained cottage with bedroom and ensuite bathroom, lounge and small kitchen, (35m2). It has comfortable accommodation for three people (queen bed and single bed). House trained pets are welcome. A cot is available.

Charges: per night for: one person / two people / extra adult including breakfast provisions
one night: $110-120 / $130-140 / $25 each extra adult (children $20).
two nights: $100-$110 / $115-$125 / $25 each extra adult (children $20)
3 or more nights: $95-$105 / $110-$120 / $20 each extra adult (children $15)
the The lower rates are for winter (16 May til 15 Sept). We also have weekly rates without breakfast. [RACT rating 3.5 stars]
Some visitor book comments from "Best accommodation in Tassie by far" (5th April), "What a crime ... to discover such a gem of a place quite by accident - and only stay 1 night" (29th April). And from 2008 "After 15 months and 2 days returning here to Nanna's cottage and found it as wonderful as I left it!" (24th February) and 2014 "Loved all the old world touches but still appreciated the reverse cycle air conditioning and towel warmers. Would love to stay longer!" (24th May)
Grove Cottage
Is a larger self contained cottage (70m2), featuring exposed old oregon beams and oregon feature wall, has a queen size bed in one bedroom and two single beds in the other. There is a full kitchen and bathroom. Note that the 2nd bedroom is accessed via bathroom so does not suit all groups
Charges: per night for: one person / two people / extra adult including breakfast provisions
one night: $120-130 / $140-150 / $25 each extra adult (children $20).
two nights: $110-$120 / $125-$135 / $25 each extra adult (children $20)
3 or more nights: $105-$115 / $120-$130 / $20 each extra adult (children $15)
Some visitor book comments from 2007-08 "Thoroughly enjoyed our 2nd stay at The Grove, this time in "Grove" Cottage. The little touches do not go unnoticed." (13th October), "You have thought of everything! And a very comfortable bed." (13th January) . . . . to 2014 "Had to come back, The Grove is such a lovely, charming place." (16th November) "So good we couldn't resist a second night to explore more of the area. To find a place so well prepared and all needs met in such a friendly and welcoming way is probably unique!" (1st December)
Booking: Please email or phone !
Bookings are open for Tasmanian residents only from 15 June 2020. We do not have any online booking at present.

Services:
Breakfast provisions included in the price.
Daily housekeeping included in the room rate.
Free Wifi
Air Conditioning/Heating
Staff on site
Range of books, magazines and movies in the cottages.
---
House & restaurant . . .
The Grove, comprises a Georgian home (c.1835) with B&B accommodation (in Nanna's or Grove Cottages) located at George Town, site of Australia's third settlement, at the mouth of the picturesque Tamar River valley (home to fruit farms and wineries - the source of many fine wines).
Our restaurant and the house are no longer open to the public. Layout and photos
Restaurant and House are no longer open for inspection
---
Some History
Have a look at George Town's history also.
The Davies family, who purchased 'The Grove' in 1889 report that they were told that the house was built as a home for the military commandant, and completed about 1827. Remembering that it is situated in Cimitiere St., and that Colonel Cimitiere was the military commandant, may give that story some credibility. However, recent research suggests that the house was very likely built by Lieutenant Matthew Curling Friend, ship's captain, who was appointed to the post of Port Officer in 1832. He administered the whole of the river port of the Tamar river, called Port Dalrymple, because in those days of course the ships were much smaller, and used to go right to Launceston. He moved from Launceston to George Town late in 1835 apparently on completion of construction.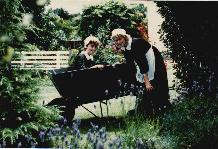 Grove maids at work

The house has had many owners, as people came to the town to do a job, and left again. Matthew Curling Friend owned the house til about 1852 when he retired to England though it was owned briefly by Revd Fereday and his family from 1846-49. Then William Lushington Goodwin (former ships Captain whose ship sunk in the Tamar, after which he started the Cornwall Chronicle, a Launceston newspaper that he used to lambast all and sundry) lived here til his death in 1862 and his wife for about 7 years longer. Dr James Richardson, former surgeon for the Van Diemens Land Company, owned the house for 20 years til 1889 when Joseph Davies (who had come to the area to manage a gold mine at Lefroy, and then the newly opened Beaconsfield gold mine) bought it, apparently in run-down condition. He carried out some restoration including replacing the wooden shingles with iron. The Davies family continued here until 1942 when Joseph's son, Thomas, died and the family departed. In 1968, The Grove was in a terrible condition, and the local council considered restoring it, then considered putting a demolition order on it. After a lot of local concern and agitation, this became a closure order, and many avenues of saving the house were explored. By 1969, when nothing had been achieved, Chlo and Peter Martin decided to look into what would be involved in restoring the house. After extensive investigation they adventurously purchased it and plunged into what was to be two years of constant hard work to bring The Grove back to life as a museum from 1971 to 2007. Through the years, the gardens have gradually been developed around the format that was already there, and our licensed restaurant built in the gardens.
---
---
last updated 31 May 2020, Webmaster: us (at) thegrovetas.com
URL: URL: www.thegrovetas.com/